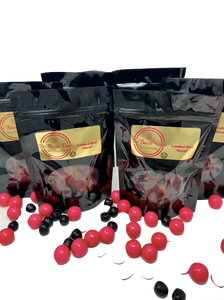 Try all of our Delicious flavors for a discounted rate!
This Sampler Pack includes 1 package of each of our 7 delicious bacon flavors!!!
Vacuum sealed packages last up to 1 month without refrigeration
Refrigerate after opening.
Weight: 4 oz x 7 Packs
Manufactured on equipment that processes products containing NUTS
All Flavors Are Awesome!
When are you making Bison Bacon ;)?
Amazing!
Love love your bacon. Big hit on Thanksgiving especially the candy bacon.
Not the first Ofer nor will it be my last!
Wish they were closer than California!
Love this Bacon!
The best! Delicious kosher bacon. Super fast delivery.
A kosher delight!
I sent Sampler Packs to my two sons for Chanukah, both of whom keep kosher but who live with partners with a broader range of dining experiences. Both the kosher diners and the bacon savvy diners agreed the Sampler Pack was a hit. They each tried it wrapped around dates as an appetizer for New Year's and raved about it. It's good to know the gift was well received by all.